M.Phil Pharmacy Fall Semester 2019
(Regular and Self Supproting Programme)
1st Semester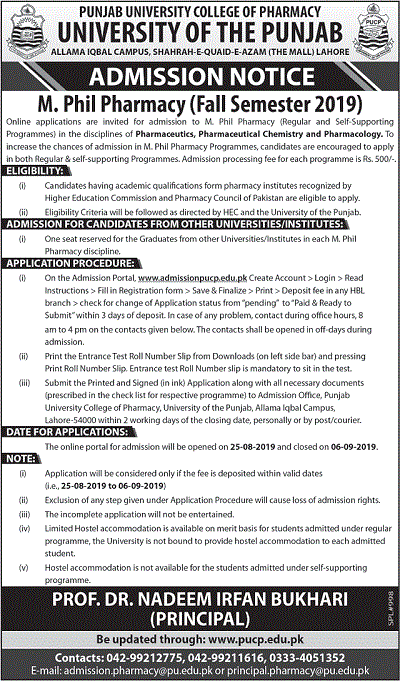 Online applications are invited for admission to M.Phil Pharmacy (Regular and Self-Supporting Programmes) in the disciplines of Pharmaceutics, Pharmaceutical Chemistry, and Pharmacology. To increase the chances of admission in M.Phil Pharmacy Program, candidates are encouraged to apply in both Regular & self-supporting program. Admission processing Fee for each programme is Rs. 500/-.
Eligibility:
(i) Candidates having academic qualifications form pharmacy institutes recognized by Higher Education Commission and Pharmacy Council of Pakistan are eligible to apply.
(ii) Eligibility Criteria will be followed as directed by HEC and the University of the Punjab.
Admission for Candidates from other Universities/Institutes:
(i) One seat reserved for the Graduates from other Universities/Institutes in each M.Phil Pharmacy discipline.
Application Procedure:
(i) On the Admission Portal, www.admissionpucp.edu.pk Create Account à Login à Read Instructions à Fill in Registration form à Save & Finalize à Print à Deposit fee in any HBL branch à Check for change of Application status from "Pending" to "Paid & Ready to Submit" within 3 days of deposit. In case of any problem, contact during office hours, 8 am to 4 pm on the contacts given below. The contacts shall be opened in off-days during admission.
(ii) Print the Entrance Test Roll Number Slip from Downloads (on left side bar) and pressing Print Roll Number Slip. Entrance Test Roll Number slip is mandatory to sit in the test.
(iii) Submit the Printed and Signed (in ink) Application along with all necessary documents (prescribed in the check list for respective programme) to Admission Office, Punjab University College of Pharmacy, University of the Punjab, Allama Iqbal Campus, Lahore-54000 within 2 working days of the closing date, personally or by post/courier.
Date for Applications:
The online portal for admission will be opened on 25-08-2019 and closed on 06-09-2019.
Note:
(i) Application will be considered only if the fee is deposited within valid dates (i.e., 25-08-2019 to 06-09-2019)
(ii) Exclusion of any step given under Application Procedure will cause loss of admission rights.
(iii) The incomplete application will not be entertained.
(iv) Limited Hostel accommodation is available on merit basis for students admitted under regular programme, the University is not bound to provide hostel accommodation to each admitted student.
(v) Hostel accommodation is not available for the students admitted under self-supporting programme.